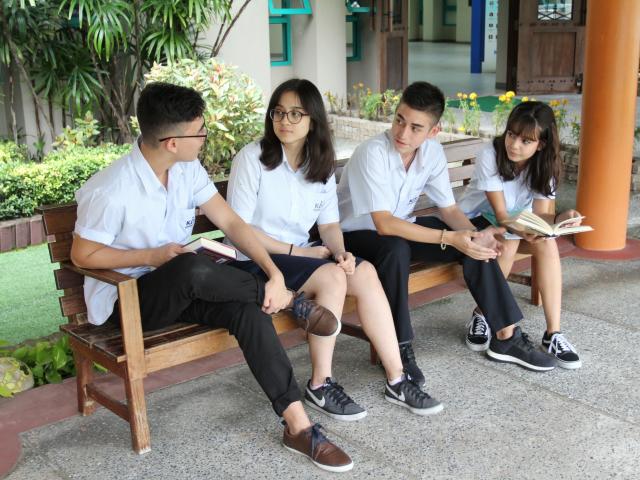 The ministry of education in Thailand defines international schools as, "An educational institution providing an international curriculum or international curriculum which its subject's detail has been adjusted or a self-organized curriculum, which is not the Ministry of Education's. A foreign language is used as the medium of teaching and learning and students are enrolled without restriction or limitation on nationality or religion or government regime, and are not against the morality or stability of Thailand."
There are many international schools in Thailand and you will most likely be happy with any of them you choose, however, Bangkok is the hub for them and offers the top of the crop of international schools in Thailand.  Two-thirds of the international schools in Thailand are located in Bangkok.
In Bangkok's international schools you will have a Kindergarten through Grade 12 education, which offers American and IB prep as well. (Founded in 1968, the International Baccalaureate (IB) is a non-profit foundation, which offers four high quality and challenging educational programs for a worldwide community of schools.)
In Bangkok, you will find schools accredited by the WASC (Western Association of Schools and Colleges) and many are members of ISAT (International Schools Association of Thailand) and EARCOS (East Asia Regional Council of Schools).  Some schools even offer their own curriculums, some of which may be tailor-made for what you and your child are looking for.  So be sure to have a gander at one of those at least.
While studying at the international schools of Bangkok you will find great facilities, a high level of teachers, and a learning environment that will allow your student to thrive and expand their knowledge in preparation for their future.
A General Guide to Fees:
Application-4,500 Baht
Registration-260,000 Baht
Annual-20,000 Baht
Membership-10 Baht
Tuition-These can range anywhere from 500,000 Baht per year to 950,000 Baht depending on your student's grade and also needs.
Transportation-Ranges from 80,000 Baht to 130,000 Baht depending on grade level as well.
This should provide you with a basic layout for deciding on your child's future and what to generally expect from the international schools of Thailand and in Bangkok specifically.