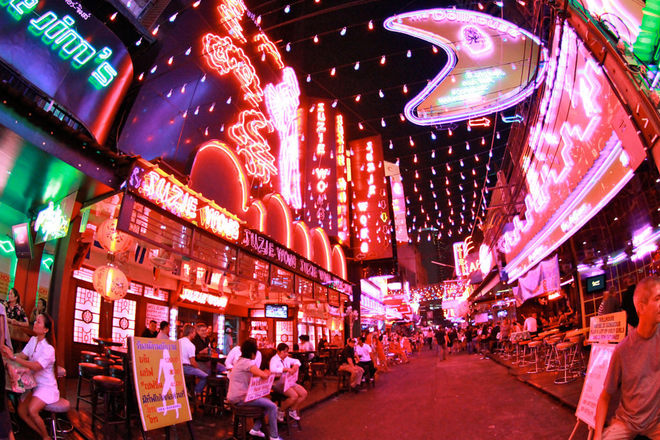 The Nana stop on Sukhumvit Rd from the BTS Skytrain is a very popular gateway into the Bangkok's nightlife.  Located right above the ever popular Soi 11, the Nana BTS stop is one you'll want to make when in Bangkok and the hotel you'll want to stay at is Lohas Residences; since the area provides you with restaurants, bars, and cafe's which suit both Thai and Western tastes.  The Lohas Residences is located in between Soi 2 and Soi 4.
The Nest and Flow Bar
The Nest and Flow Bars are located at the end of Soi 11 in Le Fenix and offer great customer service, good food, and nice drinks. The buffet is above average and runs you about 300 baht.  Flow bar is a small bar that serves some decent wine and overhangs a view of the street.  The rooftop lounge is called The Nest and is a great place to drink and eat while listening to good music in an outdoor atmosphere that you can still have a conversation in.  The hostess Yao will treat you well and make sure you have all you need.  Sometimes there can be a wait but most of the time you can walk right in.
Oskar
Oskar is on the other side of Soi 11 from the Nest.  Here you will find a nice crowd of working people in the Bangkok area.  The DJ is always playing good music and the food and drinks are a treat.  The staff is incredibly accommodating with speedy service.  Try the pizza with some wine here for dinner.
Sugar Club
This is the place to go after The Nest and Oskar.  Sugar is a disco that stays open late, or until the early morning hours.  It is loud with banging techno and house music.  You can order a bottle and get a table or just hit the bar and the dance floor.  If you do order a bottle and don't finish it before you are ready to leave they will stick your name on it and save it for your next visit.  So long as your next visit is within a month.